Motorcycle Ride Directory at BlueRidgeMotorcycling.com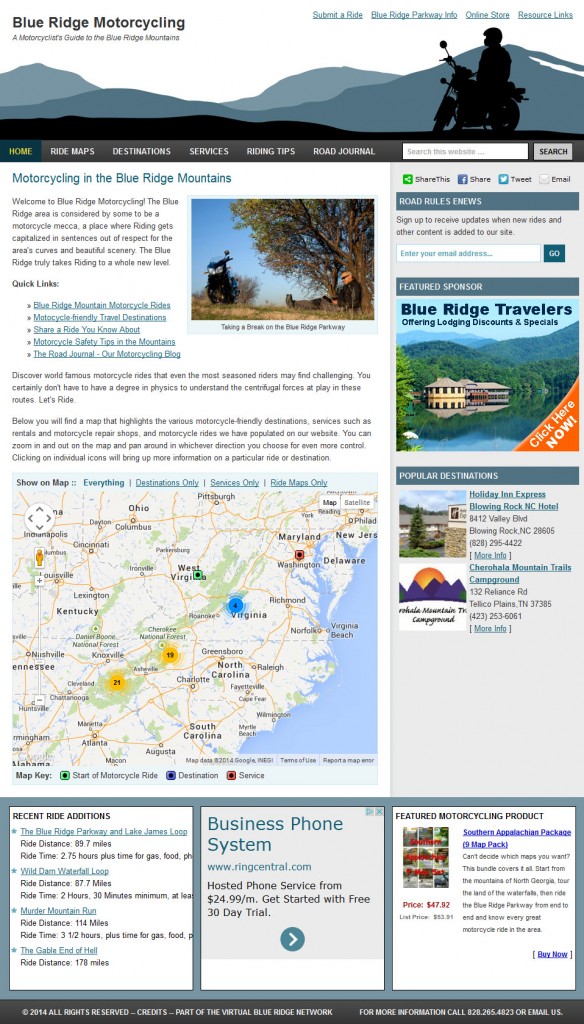 Blue Ridge Motorcycling! The Blue Ridge area is considered by some to be a motorcycle mecca, a place where Riding gets capitalized in sentences out of respect for the area's curves and beautiful scenery. The Blue Ridge truly takes Riding to a whole new level.
Discover world famous motorcycle rides that even the most seasoned riders may find challenging. You certainly don't have to have a degree in physics to understand the centrifugal forces at play in these routes. Let's Ride.
You will find maps that highlight the various motorcycle-friendly destinations, services such as rentals and motorcycle repair shops, and motorcycle rides we have populated on our website. You can zoom in and out on the map and pan around in whichever direction you choose for even more control. Clicking on individual icons will bring up more information on a particular ride or destination.
Quick Links:
Blue Ridge Motorcycling! The Blue Ridge area is considered by some to be a motorcycle mecca, a place where Riding gets capitalized in sentences out of respect for the area's curves and beautiful scenery. The Blue Ridge truly takes Riding to a whole new level. – See more at: http://www.blueridgemotorcycling.com/#sthash.pao4kU9d.dpuf